It was announced today that the multi-platinum quartet, Il Divo will take the stage with Barbra Streisand as her special guest for her highly anticipated national tour set to kick off October 4th in Philadelphia at the Wachovia Center.
The tour will be presented by promoter Michael Cohl for Concert Productions International and The Next Adventure (A Live Nation Company).
"It's an incredible opportunity to work with Barbra Streisand certainly the greatest female performer of all time," said Cohl. "This will be an amazing show. Don't miss it."
Martin Erlichman, Streisand's longtime manager, announced the tour last week citing her commitment to contribute to charitable organizations as her motivation to return to the stage.
In a joint statement, Il Divo stated: "We believe the experience of working with Barbra Streisand -- a truly legendary artist -- will forever shape the way we approach our own singing and performing. Her voice and her music have profoundly influenced and inspired so many artists, including Il Divo, and we are thrilled to be sharing the stage with her."
Barbra Streisand is the music industry's #1 best-selling female artist with 50 Gold, 30 Platinum and 13 Multi-Platinum albums to her credit. She is second in the all-time charts, ahead of The Beatles and The Rolling Stones, exceeded only by Elvis. She continues to be the highest-selling female recording artist ever. Streisand remains the only artist to receive Oscar, Tony, Emmy, Grammy, Golden Globe, Cable Ace, and Peabody Awards, and the American Film Institute's Life Achievement Award.
Il Divo has become the most successful International musical break-out story of the past few years, selling more than 12 million albums. Conquering the hearts of fans and the charts of nations all around the world, the group has garnered some 80 gold and platinum awards in 33 countries. Their first two albums, Il Divo and Ancora, achieved 26 #1 chart positions Internationally, including at #1 debut in the United States.
American Express has a long history of providing special access and meaningful experiences to Cardmembers. As part of this ongoing commitment, American Express has partnered with Barbra Streisand to secure a special opportunity for Cardmembers to purchase their tickets (in select markets and venues) to what promises to be an incredible tour prior to the general public on-sale. Tickets to Barbra Streisand's performances in New York, Boston, Chicago, Philadelphia, Washington, Ft. Lauderdale, Atlanta, San Jose and Los Angeles will be available exclusively to American Express Cardmembers from June 12th at 1pm to June 18th at 2pm. Additionally, tickets to the Las Vegas show will be available exclusively to American Express Cardmembers from June 17th to June 22nd and tickets for the Detroit performance will be available exclusively to Cardmembers from June 19th to June 25th. American Express will offer VIP packages exclusive to their Gold Card Events and By Invitation Only eligible Cardmembers.
Tickets for the Barbra Streisand tour will go on sale to the general public beginning Monday, June 19th for New York, Boston, Chicago, Philadelphia, Washington, Ft. Lauderdale, Atlanta, San Jose and Los Angeles. Fans in Las Vegas can purchase beginning June 24th and in Detroit on June 26th. A limited number of seats will be sold at $750 with remaining tickets at $350, $200 and $100. There will be a 6 ticket limit per person. For Tour and Ticket information visit: www.BarbraStreisand.com
Michael Cohl and Concert Productions International are proud to present Barbra Steisand's 2006 concert tour. For ticketing and VIP package information, visit our website at www.cpitour.com.
October 4th Philadelphia
October 6th Columbus
October 9th New York
October 11th New York
October 13th D.C.
October 15th Montreal
October 17th Toronto
October 20th Toronto
October 22nd Boston
October 24th St. Paul
October 28th Ft. Lauderdale
October 30th Ft. Lauderdale
November 2nd Atlanta
November 4th Atlantic City
November 7th Chicago
November 9th Chicago
November 13th San Jose
November 16th Phoenix
November 18th Las Vegas
November 20th Los Angeles
---
Barbra's Pre-Tour Interview with USA Today
By Elysa Gardner, USA TODAY
Planning to catch Barbra Streisand on her tour with the "popera" quartet Il Divo? Better arrive on time.
"I open the show," Streisand, 64, quips. "After all these years, I'm still the opening act."
That's not to say that the diva — whose first national tour in more than a decade starts Wednesday in Philadelphia — will be a supporting player. Streisand will be the star the moment she appears on stage, mixing classics with songs she has never performed in public.
Il Divo, whose operatic approach to pop ballads has fueled a pair of chart-topping CDs, will join Streisand for several numbers. "It's like having 'The Four Tenors' — but the four young, hot tenors. They're cute and they have beautiful voices. What more could you ask for?"
Additional surprises will include a special guest joining Streisand on Happy Days Are Here Again, "and some comedy, some fun stuff. Everybody will know after Philadelphia."
Streisand describes her new production as "more intimate, not as elaborate as I've done before. I have 58 musicians. But it's really about the singing. In listening to certain things from my past, I thought I could revisit them."
Another goal is to help raise money for Streisand's charitable foundation, which focuses on health, education and the environment. She has committed $1 million to Bill Clinton's Climate Initiative.
"To do good things you need lots of money," Streisand says. "Of course, my foundation has done great things with small amounts, too. We stopped a nuclear power plant from turning waste-grade plutonium into weapons-grade plutonium."
Fans can learn about other projects and goals in Streisand's concert program. "There are things in terms of peace organizations between Arabs and Israelis, and blacks and Jews. A lot of it is non-partisan. People will be able to see where a lot of the money they're spending is going. I want to do some good things in my lifetime — and pay for my house, which is double the budget already."
Indeed, Streisand jokes that part of the reason she's hitting the road again is "to escape the horror" of constructing a new home in Malibu. "But I end up dealing with it anyway, by phone and fax and e-mail. It's harder than doing the concert."
"My tours are very limited," Streisand says. "I speak to my friends, to people like Diana Krall, who said she toured 300 out of 365 days. People like Madonna do 60 cities, where I'm only doing 20. It's rare for me to go out. But at this time in my life, this feels right."
---
OPRAH'S CUT WITH BARBRA STREISAND

Listen in.

"She is hands down one of the greatest, most enduring performers around." — Oprah
---
Pre-concert Interview with Barbra
BarbraNews talks to The Streisand Foundation about the tour... (Rare interview)
---
The Dress Rehearsal
Barbra performed in front of an invited audience on Tuesday 3rd October at the Wachovia Center, at 1pm -- the day before the tour kicks off.
The Song List (Not In Order) from the Dress Rehearsal.
An Unusual Way

Cockeyed Optimist

Come Rain or Come Shine

Don't Rain on My Parade

Down with Love

Evergreen (in Italian and English with Il Divo)

Funny Girl (the title song from the film)

Happy Days Are Here Again / Get Happy (Duet with George Bush Impersonator)

Have I Stayed Too Long At the Fair

I Finally Found Someone

Ma Premiere Chanson

Music of the Night (with Il Divo)

My Shining Hour

People (Including rare introduction from Film)

Starting Here, Starting Now

The Music Of The Night (with Il Divo)

Somewhere (with Il Divo)

The Music That Makes Me Dance / My Man (Medley)

The Way We Were

The Woman In the Moon

What Are You Doing The Rest Of Your Life?

When the Sun Comes Out

Where or When

You Have to be Carefully Taught / Children Will Listen (Medley)
"I have seen her sing 11 other times in my life. I have never seen her this relaxed and playful". -- Attendee

"A few people -- me included, stood up after 'Woman In The Moon'... She was so appreciative, she looked over and said that she was very glad we liked that song". -- Attendee
---
By Andrew Gans
06 Oct 2006
Barbra Streisand in concert


photo by Firooz Zahedi (headshot)

Last Saturday I received an invitation that I will probably never be offered again: the chance to attend a Barbra Streisand dress rehearsal at the Wachovia Center in Philadelphia, PA. Not only would this be the first time I had ever seen the Academy Award-winning actress perform live, but I was also able to bring five people with me to the by-invitation-only event.
Knowing this would be a once-in-a-lifetime opportunity, I wanted to share the day with some of the people I love most and those who I knew would truly appreciate the experience: my mom, my sister, my sister-in-law, my friend Tod and his mother Joyce. The six of us — some coming from New York, some from New Jersey and one in Pennsylvania — all headed to the 15,000-seat Wachovia Center on Tuesday for the afternoon concert.
The concert was primarily attended by friends and family members of the musicians in the 56-piece orchestra or those working on the concert tour as well as such celebrities as Rob Marshall, Liz Callaway, David Zippel and Donna Karan. And, as we all waited to be let into the theatre on the suitably sunny day, there was true excitement in the air, a feeling that continued to build as we took our seats in the mammoth stadium. Most of the 900 or so attending were seated in the floor section, and my family, friends and I could hardly believe that we were going to have the privilege of enjoying a Barbra Streisand concert from the fourth row.
The set design for the tour, it should be noted, is simple, yet elegant. A few raised pathways with lit handrails encompass the orchestra, and there are three areas where a modest bouquet of roses adorn a small round table and chair.
As the audience anxiously awaited the star's entrance, that aforementioned sense of excitement seemed to transform into a palpable sense of electricity that flowed throughout the arena. At 2 PM the lights dimmed and Richard Jay-Alexander, who, with Streisand, co-directed the concert, made his way onto the stage to welcome the audience. Jay-Alexander joked that Streisand had tired of her "audience of six" and was eager to try out her new show for today's crowd.
The original overture to Jule Styne's Funny Girl — the 1964 Broadway musical that garnered its star her second Tony nomination — began the concert and was greeted with an enthusiastic applause, but the sight of Streisand, who, at 64, remains a striking figure, brought the audience to its feet for the first of many times that day.
Streisand began her concert with Richard Maltby and David Shire's "Starting Here, Starting Now," and I have to admit hearing the sound of her voice live — those lush, rich, golden, rounded tones that seem to magically pour out of her — was surprisingly moving. There have been many singers throughout the years who, intentionally or not, have imitated her sound, but when hearing Streisand live, one quickly realizes there is no substitute for the real thing.
After welcoming the animated crowd, Streisand noted that she hadn't performed in Philadelphia for over four decades, not since she filmed her 1965 television special "Color Me Barbra."
"Down with Love" preceded one of the afternoon's highlights, the Academy Award-winning theme song from the 1973 Streisand-Redford film "The Way We Were." There was a gentle hush as Streisand delivered the opening lines, "Memories light the corners of my mind. . .," and I suspect there was nary a dry eye as she finished the Marvin Hamlisch-Alan and Marilyn Bergman tune on a beautiful sustained, almost ethereal high note.
Before belting out a terrific version of the Harold Arlen standard "Come Rain or Come Shine," Streisand explained why teleprompters are a must for her tours. During her monumental 1967 concert in Central Park, she forgot the lyrics to three songs, and that experience was so "frightening and embarrassing" that she was unable to sing in public for nearly 30 years. "When I performed my fundraising concert in 1986," she said, "by then they had invented the teleprompter. . . . Now I have them in case I have a senior moment!"
One of the many things that struck me during the generous, three-hour concert was the warmth that Streisand exudes onstage. And, not only is she tremendously intelligent — evidenced in both her spoken word and her lyrical interpretations —she is also extremely funny, joking throughout the show, often at her own expense. She drew laughs when detailing all the local food she had sampled in Philly, noting "The only thing I like more than American democracy is eating." When she played a wrong note on the piano — during "Ma Premiere Chanson" — her simple "Oh sh**!" was delightfully down-to-earth, and when a loud sneeze from the audience preceded the final note of a song, her quick "God bless you" drew laughs and applause.
"I Finally Found Someone," a song based on the love theme from "The Mirror Has Two Faces," preceded her best-known composition "Evergreen." As Streisand explained that one of the most enjoyable aspects of writing songs has been hearing other people interpret them, the tour's special guests — Il Divo — joined her for the remainder of that song, which explores "the meaning of one love."
The strong-voiced Il Divo — comprising David Miller, Sebastian Izambard, Urs Buhler and Carlos Marin — joked a bit with Streisand, before taking the stage with five solos: "Senza Catene" ("Unchained Melody"), "Passera," "Regresa A Mi" ("Unbreak My Heart"), "Si Tu Me Amas" and the Sinatra classic "My Way"; the latter was dedicated to Streisand.
As Il Divo began singing The Phantom of the Opera's "Music of the Night," Streisand returned to much applause, joining the four men for a gorgeous version of the Andrew Lloyd Webber tune. Whether she's singing solo or with a group, one can't help be impressed by Streisand's innate musicality. As opposed to today's "American Idol"-type singers who sing three notes for every one, Streisand's simple riff here or gentle lick there seem completely organic and add to rather than detract from the melody.
The first half of the evening concluded with several songs from Funny Girl: the extended, full show version of "Don't Rain On My Parade," the bittersweet title song, a powerful medley of "The Music That Makes Me Dance" and "My Man" (which was added to the film) and, of course, one of Streisand's many anthems, "People." The crowd again jumped to its feet as Streisand's voice soared on the song's climax: "People who need people are the luckiest people in the world!"
The concert's Entr'acte featured a portion of the "Funny Girl" movie score; "On a Clear Day You Can See Forever"; music from "The Prince of Tides"; and the "Yentl" ballad, "Papa, Can You Hear Me?" Streisand then reappeared, singing a glorious rendition of Rodgers and Hart's "Where or When."
The Grammy winner then had some fun with her audience, answering questions from the crowd [those attending the concerts will have the chance to fill out "Ask Barbra" cards prior to each show] and performing a version of the classic Judy Garland-Streisand duet "Get Happy"/"Happy Days Are Here Again" with a special guest star (I won't ruin the surprise).
Streisand then built Harold Arlen's "When the Sun Comes Out" to a thrilling, full-voiced finale. While discussing her "pride and joy," her son Jason, a piece of music he composed for his mother while she was making "Yentl" was played in the background. A wonderful, poignant medley of Rodgers and Hammerstein's "You've Got to Be Carefully Taught" and Sondheim's "Children Will Listen" followed.
One of the most welcome surprises of the afternoon was the inclusion of Maury Yeston's "Unusual Way." Streisand's voice was perfectly suited to the beautiful Nine ballad, and her acting of the song was also impeccable. In fact, it made one long to hear what she could do with some of the more current theatre scores.
"Like the Gentle Rain," performed as a bossa nova, was followed by the Bergmans "What Are You Doing the Rest of Your Life?," and two early Streisand favorites, "Woman in the Moon" and "Have I Stayed Too Long at the Fair?" followed; the latter was particularly impressive.
Streisand offered the West Side Story anthem "Somewhere" as a "prayer for tolerance, compassion and peace," and was again joined by Il Divo. As the thrilling sound of the five voices and the orchestra — conducted by William Ross — swelled to dramatic effect on that Leonard Bernstein-Stephen Sondheim tune, the entire crowd spontaneously rose en masse.
"God, you're a great audience! Can you come back tomorrow?," Streisand quipped before delivering two more songs to the appreciative crowd: "My Shining Hour" and a terrific arrangement of "A Cockeyed Optimist." There was one final encore, but I'll leave that as a surprise.
If I were asked to sum up the afternoon in one word, it would have to be joy. There were tears of joy, joy in people's smiles, joy in watching a performer reclaim the concert stage, joy in sharing this day with my family and friends, and the simple joy of music superbly performed. And, now, Streisand has the chance to spread this joy throughout the U.S. and Canada as she embarks on a two-month tour that will visit such cities as New York, Washington, Toronto, Quebec, Boston, Atlanta, Chicago, Phoenix and Las Vegas.
---
Photos by Kevin Mazur / Wireimage.
---
Opening Night -- Wachovia Center -- Philadelphia.
October 4, 2006
Click here for video footage (1) (CBS TV)
Click here for video footage (2) (Associated Press)
Inqlings | Before singing, Streisand had a taste of Philly's best
By Michael Klein
Inquirer Columnist
Barbra Streisand didn't just pop into Philly for last night's Wachovia Center concert.
She did four days of rehearsals at the Sovereign Bank Arena in Trenton - same management as the Wachovia - and overnighted at Philly's Four Seasons with husband James Brolin.
After Babs and Brolin toured the Art Museum on Monday - where she shot part of her 1966 special Color Me Barbra - they showed up at the National Constitution Center at 4:30 p.m. hoping to see "Freedom Rising," the center's theater production.
Last show for you and me would be at 4 p.m. Not wishing to rain on her parade, the center ran "Freedom Rising" especially for them, and the couple followed up by touring Signers' Hall.
Tuesday afternoon, about 500 of the luckiest people - including fashion icon Donna Karan - watched the dress rehearsal at the Wachovia Center, where Streisand mentioned getting a cheesesteak at Pat's, clams casino at Old Original Bookbinder's, and ice cream at Bassett's in Reading Terminal Market.
Streisand, 64, also unapologetically acknowledged "senior moments" as she pointed out that she had lyrics in large type on a prompter.
---
Barbra in New York -- Madison Square Garden
October 9, 11, 2006
BABS WORTH BUCKS

BARBRA STREISAND
The real deal. -- By Liz Smith
October 11, 2006 -- 'AND NOW for my next trick!"
So joked Barbra Streisand during the first minutes of her latest concert tour. No tricks. Only talent.
TONIGHT, if you are lucky enough to jam into Madison Square Garden to see Barbra Streisand, be prepared. You will find a great artist, whose capacity for vocal subtlety, sensuality, power and passion is as thrilling as ever. She was, is, and will forever be the real deal.
You will also find a woman whose good sense occasionally abandons her, almost sinking what is otherwise an amazing concert appearance.
The first act was a hands-down triumph. Beginning with "Starting Here, Starting Now," her tones were smooth and honeyed, if only slightly constricted, perhaps by back-in-New York nerves. She was loose, she was funny, her beaded gown unforgiving on a voluptuous knish-enhanced figure, her hair a bit askew. But for once, Barbra looked like she was actually enjoying her fans, her fame, the experience of being onstage. She was impromptu often, rather than teleprompted. (Though the famous prompters were obvious, and she joked about them.) She was, in short, adorable.
With her voice opening up with each number, she offered stunning versions of "The Way We Were" and "Evergreen." She mined deeply from her stage and movie triumph "Funny Girl." (In fact, the show begins with the entire Broadway overture from that classic musical.) She sang, for the first time, the title song, written especially for the film version of the Fanny Brice biopic. This elicited delighted gasps from her fans. And if it is possible after 40-plus years singing "My Man" and "People," to offer newly definitive versions of these chestnuts, Barbra miraculously manages it. The concert might have ended there and sent her fans home overjoyed and fulfilled.
ACT 2 presented Barbra in a sleeker hairdo, a more flattering (and bosom- baring) gown and a voice now fully released. "The Music of the Night," "When the Sun Comes Out," "In a Very Unusual Way," "What Are You Doing the Rest of Your Life" and "You've Got to Be Carefully Taught/Children Will Listen" are like buttah fresh from the farm.
And then, and then . . . she begins telling how she loves the truth and hates all the awful stories printed about her. Uh-oh. She takes notes from the audience. One is signed "George from Texas." Sigh! Yup, a President George W. Bush impersonator appears onstage to the strains of "Hail to the Chief." (Which, by the way, no matter what you think of any president, should only be played for the president.) What follows is a squirmy cringe-inducing "parody" between Streisand and "Bush." It goes on. And on. Worse still, she uses one of the great moments of her young career, the famous "Get Happy/Happy Days Are Here Again" duet with Judy Garland as part of the joke. "Bush" takes Judy's part. Gasp-inducingly tasteless and boring. She was heckled, and then gave back as good as she got.
She apologized for losing her temper, and spoke of unity. But it is the very nature of her pointless parody that divides. Ah, but remember I said she is a great artist? She then did what only a great artist can do. She pulled it out of the fire (or the icebox, as it were, the audience slightly chilled by her "satire"). Barbra made those fans scream, stomp and brava all over again for "(Have I Stayed) Too Long at the Fair?," "Somewhere" (which produced near hysteria), "My Shining Hour" and "Smile." The lady redeemed could have remained onstage for another hour, at least.
Is Barbra worth the cost of her concert? Yes. Real talent and iconic stardom still exist. Go find her on the rest of her tour - go before she goes offstage for good. But does she understand that the power of her voice, singing "Somewhere" prefaced by a few simple words, does more to get her message across than anything she says? Not. At. All. Still, and to her credit, Streisand remains true to herself. That's more than you can say for most politicians, Republican or Democrat, who talk from both sides of their mouths.
Oh, yes, Miss Streisand receives unnecessary assistance from the four bombastic tenors Il Divo. They belt out songs like "My Way" (in Italian) and give La Diva a breather. They also afford the opportunity for a flirty Streisand to surround herself with handsome men. They're fine. But when you've got what Barbra's got, all you need is a microphone. (It's a stylish, fairly simple presentation even with the Divos; no video screen homage's to herself and her past glories, no distracting props.)
The funniest part of the whole night was passing through the lobby, experiencing commercialism full riot. Items for sale included getting your picture taken in front of a "Streisand" sign - $20 for the first pic, $10 for the second and each additional was $5. There were baby outfits, doggie outfits, $40 programs, $300 suede and leather jackets. And T-shirts, which portrayed Barbra in her many roles - singer, director, woman with cleavage. She insists most of this money goes to her various charities. I'll take the lady at her word. I sure don't want her to tell me I can't take a joke!
---
Click here for Newsday Photo Gallery
Click here for video footage from New York
Photo Credit: Walter McBride / Retna (above)
Members of the BarbraNews.com forum meet up - before the New York show! What a good looking group! (More fan photos at the bottom)
Celebrities attending the show included:
James Brolin, Gene Simmons from Kiss, Rosie O'Donnell, Kelli O'Donnell, socialite and new Republican friend of Rosie, Georgette Mosbacher, Jason Gould, Josh Brolin, Diana Krall, Donna McKechnie, recent Funny Girl Paper Mill Playhouse star Leslie Kritzer, Oprah Winfrey, Gayle King, Sandy Gallin, Ralph Lauren, Lorne Michaels, Liz Callaway, composer David Zippel, Gary Smith, Donna Karan, Stephania, Donna's 3 year old granddaughter that Barbra mentions, who sings My Man at the age of 3, Steven Brinberg, Tony Bennett... and more.
(Photo by Walter McBride / Retna)
Oprah King and Gayle King watch on...
Celebrities included:
Can you spot Oprah, Gayle King, Cis Corman, Josh Brolin, The Bergmans...?
Click for larger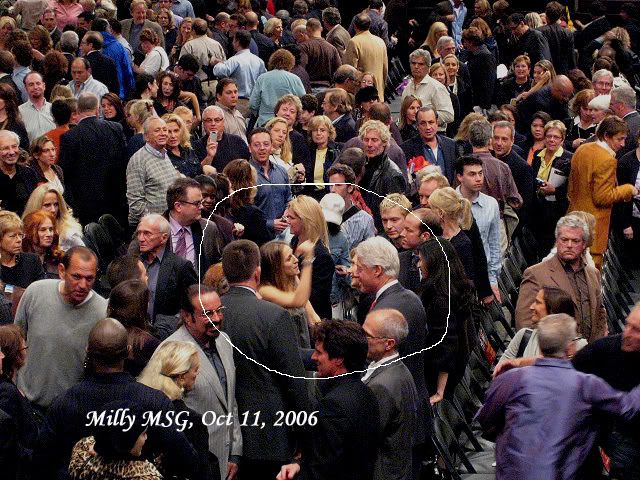 (above photos are after the show, backstage -- by Kevin Mazur / Wireimage)
Ann Hampton Callaway
David Shire
Donna Karan
Dr. Mathilde Krim
Ex-President Clinton and Hillary
Fran Drescher
Fran Weissler
Gloria Estefan
Hugh Jackman and wife
James Brolin
Jason Gould
Katie Couric
Larry Kramer
Lauren Bacall
Lorraine Bracco
Phylicia Rashad
Regis Philbin & wife Joy Philbin
Richard Maltby
Rob Marshall
Rosie
Sarah Jessica Parker
Sheldon Streisand
Stephen Sondheim
Sting.
---
Thanks to Cathy (Il Divo Forum)
All courtesy of Walter McBride / Retna


Following photos Cathy / Il Divo Board.
---
Fan Photos
Fans from BarbraNews.com and Barbra-Archives.com got together -- here's some shots
(Courtesy Matt Howe / BarbraArchives)
---
Concertgoer throws drink at Streisand
Barbra Streisand had a drink lobbed at her Monday after a mid-concert skit poking fun at President Bush.
Streisand's publicist, Dick Guttman, said a paper cup filled with some sort of liquid was thrown on stage but apparently did not hit Streisand during her second performance in this Fort Lauderdale suburb.
Streisand's manager, Martin Erlichman, said she shrugged off the incident and responded to the angry audience member by saying: "It's a free country and they're entitled to express their opinion."
It's at least the third time the skit, which includes a George W. Bush impersonator, has angered Streisand's audience. A heckler targeted her at the Philadelphia opening of her 20-city comeback tour, Guttman said, and Streisand made headlines with her response to a jeerer at Madison Square Garden last month.
Erlichman said Streisand believed the skit was in good fun and noted impersonator Steve Bridges, who wrote it, is a Republican.
"This skit has been so massively covered by media, it's impossible that it still could come as a surprise to any of the Bush admirers who bought tickets," Erlichman said.
Despite the controversy, Erlichman said the skit would remain a part of the tour.
"It stays in the show except for the few performances where Steve has a conflicting commitment," Erlichman said.
Streisand, an outspoken liberal, is touring the country after a 12-year absence from the stage, offering fans a repertoire of her four decades of hits.
---
From Barbra's LA Publicist
(Sent to BarbraNews.com on 2 November. This can also be read at Barbra's website)
You may have picked this up already from the new Truth Alert on Barbra's website. If not, I know it will interest you. An important aspect of this story is that in an election season that has had so much name-calling and so many ads which distorted the truth, someone (Barbra) actually cared that the truth be told.. even though it erases the impression that the original Associated Press story had inferred someone politically opposed to her, committed a rude act or throwing a drink (actually, a paper cup with some liquid in it) on the stage. Barbra's desire to set this matter straight is one step towards civility in politics. And, as the proverb says, the longest journey begins with but a single step. -- Dick Guttman
In view of press speculation that there was a political aspect to an incident at one of the recent Ft. Lauderdale performances of the current Barbra Streisand national tour, the star wishes it known that she discovered later that the outburst was in no way political. The man who threw a paper cup with liquid in it onto the stage was actually the guest of someone to whom Streisand had given tickets, a guest who had had one or more too many beers but no political convictions.
After a recent stay on a friend's boat near Miami, Ms. Streisand had given each of the crew members tickets (these happened to be front row) for the sold-out concert. When one seaman became ill, an Australian friend was invited, a rowdy friend as it turned out.
There have been three occasions during the tour, which has now completed 12 or its twenty concerts, in which a heckler protested a skit in which the George W. Bush impersonator Steve Bridges interacts with Streisand. The management of the tour points out that Bridges is a Republican and has performed his impersonation with President Bush at the White House Correspondents Ball and for him on several occasions including one at the White House, and that Bridges' writers had created the skit used in the concerts. Martin Erlichman, Ms. Streisand's manager and a producer of the tour, noted that if Bridges feels the material is in good fun and conforms with the President's self-deprecating sense of humor, that was good enough for Ms. Streisand.
Three of the nearly 180.000 people who have seen the concerts so far have chosen to make vocal protest of the skit during its performance, but singer feels it should be made clear that the person who threw the drink had no political motive or message..
---
Despite rumors to the contrary, we heard Barbra Streisand was a doll to deal with when Salon Rik Rak owner Rick Watters did her hair color in the comfort of Rosie O'Donnell's Star Island manse over the weekend. Also on hand: Streisand's hubby, James Brolin, who didn't partake in beauty treatments, but spent time talking to Watters about business strategies. Babs was so impressed with Watters' wizardry that she invited his entire family to her sold-out Monday night show.
---
Barbra Byte -- by Allison. J Waldman

01 November 2006

The Morning After
By Allison J. Waldman (Exclusively for BarbraNews.com)


I was planning to write this Barbra Byte -- my first in a while -- the morning after seeing Barbra in Fort Lauderdale. I figured, rightly so, that I would have lots to say about Barbra's performance. The show I attended, Saturday, October 29, was magnificent. Barbra was brilliant, relaxed, radiant and everything I expected her to be. She was warm, alive, witty and wonderful. Whether on her chair, softly caressing the lyrics to "Funny Girl" or pondering "Have I Stayed Too Long At the Fair?", or belting "My Man" with all the soul she has to muster, the lady is the preeminent vocalist of our lives. The Times of Our Lives have been greatly enriched because of Manny and Diana's dazzling daughter, Jason's mom, our Barbra.

Now, I thought there wouldn't be much to top the high I was feeling from Saturday, but something came very, very close. With my friend John McEachron, we hosted a Barbra Brunch for Streisand fans in South Florida. Nearly 50 people showed up, everyone flying high thanks to Barbra's show, all of us thrilled and delighted to be able to share our thoughts, our memories, our feelings about our favorite star. It was a love fest. I didn't want the day to end. We all vowed to meet again soon, perhaps even put together a Barbra Cruise in the near future. Wouldn't that be fun? We could take turns singing "A Piece of Sky" or pull a Nicky Arnstein and take over the casino! Anyway, we'll see if we can make that dream a reality.

That brings me to today, the morning after Barbra second Fort Lauderdale concert. How can I put into words my reaction to hearing that the innocuous, innocent comedy skit with a George W. Bush look-alike (Steven Bridges) was again the subject of controversy…only this time somebody threw a cup of ice at Barbra? How dare someone do such a thing! What is wrong with some people? How can a civilized citizen react to free speech with violence?

My thoughts quickly turned to Barbra. Was she all right? Did this incident rattle her? Apparently, she handled it with aplomb. The Miami Herald said she virtually shrugged off the incident, and another heckler moments later. Good for you, Barbra! Shake it off, girl. Don't let those loudmouths get you down, and don't let them intimidate you into removing the Bush sketch. You have every right to do that material, a right ensured in the U.S. Constitution. Maybe a Hubbell would ask you to drop it, but in true Katie Morosky fashion, you must stand tall, be courageous, stick to your convictions and SING PROUD (even when you speak). You have never failed to live up to a challenge and I'm sure you won't in this instance.
---

Fan Reviews: http://p210.ezboard.com/fthebarbrastreisandforum89123frm51
Press reviews: http://p210.ezboard.com/fthebarbrastreisandforum89123frm52
-- Special thanks to Dick Guttman, Marty Erlichman, J-me Diamond, Blake Ross, Richard Jay-Alexander, Cathy (IlDivo), Walter (Retna), Kevin Mazur/Wireimage / Matt Howe + the fans who wrote in.