'Album of the Month' is written by Steven Housman, exclusively for BarbraNews.com. He interviewed Barbra Streisand in 2003.
Steven Housman is a longtime freelance music journalist based in Los Angeles and the Miami area. He has an encyclopedic knowledge of the music charts for the past three decades. He is a contributing editor for Genre magazine. His column "Stevie's Spin Cycle" is syndicated in newspapers and magazines internationally. In addition, Steven has written for The Advocate and for Billboard magazine. He has created a new music trivia game due in retail stores for 2005.
Visit his website: www.stevenhousman.com
---
Click here for September's album of the month... Guilty Pleasures
ALBUM OF THE MONTH - August 2005
By Steven M. Housman

BARBRA STREISAND: SIMPLY STREISAND
RELEASED: OCTOBER 24, 1967
COLUMBIA RECORDS
PRODUCED BY JACK GOLD AND HOWARD A. ROBERTS
ARRANGED BY RAY ELLIS
CONDUCTED BY DAVID SHIRE


I always think of "Simply Streisand" as the perfect album to play at cocktail parties. It's Barbra at her most sublime. Barbra Streisand's ninth solo album was appropriately titled "Simply Streisand" because the song selections, arrangements and Streisand's vocals were all conducted with such magnificent ease. After one powerhouse show-stopper after another, this was Barbra's first album of consistent tranquility since the atypical outing of "The Third Album" in 1964. It's my opinion that Streisand achieved greater success with this album. Her vocals had matured and she sounded as if she actually had been living out the scenarios on this meticulous choice of material -- more so than that of the 21 year-old on her earlier outing. After all, she was all of twenty-five by the time she recorded this album AND had become a Tony-nominated, Grammy and Emmy-winning television star with Oscar just on the horizon. Perhaps the fact the she was in the midst of filming "Funny Girl" had something to do with her confident performance. She was finally conquering the one medium she had dreamt of since she was a child -- and that was becoming a film star. Like most of Streisand's 60's albums, "Simply Streisand" was predominately music culled from Broadway.

The album opens up with the wonderful Rodgers and Hart staple "My Funny Valentine" with an introduction that was sung seemingly stoic. Streisand then glides her vocals into the main frame of the song and acts out each lyric, unlike any other singer had ever attempted this classic. She wears her heart on her sleeve and her emotionally raw rendition comes to a stunning climax. As usual, Streisand takes a well-worn song covered by hundreds of singers past and present and puts her indelible stamp on it.

I would like to emphasize the strengths on this album, but I can't. The reason being is because the entire disc is one big highlight. It's difficult to argue with the great American songbook with inclusions such as "When Sunny Gets Blue," sung in a hazy wisp that draws you straight into the heart of the matter, Frank Loesser's "I'll Know" from "Guys and Dolls" sung with such optimism, her eagerness shines through like a white hot spotlight in the black of night. The brilliant take on the Hoagy Carmichael's gorgeous sonata "The Nearness of You" ranks as one of Streisand's best in her vast discography. "Lover Man (Oh Where Can You Be?)," "Make The Man Love Me," "All The Things You Are," "The Boy Next Door," the stunning reading of "More Than You Know" and the Mae West-influenced "Stout-Hearted Men" round out this gorgeous ten song set and sets the bar so high, no other female singer can possibly reach it.

When listening to Streisand's vocals and interpretations, it's practically impossible to decipher which decade she records her songs. The music and her voice are truly timeless. Nine years later, she sang of love that was "ageless and evergreen." Those are the terms I would use for this utterly superb and transcendent album. It's "Simply" that spectacular.

© 2005 Steven M. Housman. All Rights Reserved.
---
ALBUM OF THE MONTH - JULY
By Steven M. Housman exclusively for BarbraNews.com


BARBRA STREISAND: WET
RELEASED OCTOBER 16, 1979
COLUMBIA RECORDS
PRODUCED BY GARY KLEIN EXCEPT "NO MORE TEARS (ENOUGH IS ENOUGH)" PRODUCED BY GARY KLEIN IN ASSOCIATION WITH GIORGIO MORODER PRODUCTIONS

From the opening lyrics of the album's title cut, Barbra sings "Wet is rain, rain is clean and new" to the closing lyrics of the closing track "Kiss Me In The Rain," Barbra sings "I don't even mind if I get wet," and all of the songs in between, Barbra clearly has her first aquatic-themed album. Is this an unusual theme? Yes. Most artists have themed albums such as songbooks made famous by other artists, or a mix of ethnic material that other singers have made so popular in the past, but not our Barbra. Barbra stands alone. Her unique voice has found a unique theme and the results are saturated with her glorious voice.

When this album arrived in the fall of 1979, Barbra already had so many fine accomplishments; it's no wonder that her vocal was so confident. She was still riding high on the success of her newly found home, radio, and her singles, which hardly moved in the previous decade, were now flying off the shelves and becoming favorites of a new audience – teenagers! From the time she delivered her first album 16 years prior, she was THE premier female vocalist.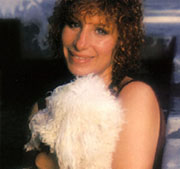 "Wet" is an interesting mix of songs that range from lush ballads, such as the aforementioned title cut which Streisand co-wrote, to pop to rock and disco. This album covered each musical genre flawlessly. Not just because of Streisand's impeccable voice, but because the song choices and arrangements were top-notch.

Following "Wet," Barbra took on the Harold Arlen-Johnny Mercer standard "Come Rain Or Come Shine" with a jazz-oriented arrangement and an electric guitar, and brought the gorgeous ballad that was written decades before and gave it a sound that was "clean and new." The arrangement and vocal is one of the best versions of this song I have ever heard. It is still my favorite, and this song has been covered by the best. Judy, Frank and Ella's are the most familiar.

Other lush ballads include "On Rainy Afternoons" and "After The Rain" both written by the ever-present Bergmans, with Lalo Schifrin and Michel Legrand composing the music on each of the songs, respectively. The placing of the two songs back-to-back is also a stroke of genius, the two songs act as companion pieces to close out side 1 of the album. The piano on "On Rainy Afternoons" is reminiscent of the piano solo of "Nadia's Theme" that was written a few years before and adds the delicate quality to Barbra's polished delivery.

My favorite ballad on the album, hands-down, is the Marvin Hamlisch, Carol Bayer-Sager, Bruce Roberts collaboration of "Niagara." This song has Streisand in her most dramatic, yearning for a love that is faltering all too fast. Streisand sings of her disdain of the present and longs for the time the couple was care-free and beautiful and "crazy" living out their fantasies on a vacation in Niagara Falls. She longs to be "crazy" again. The sax solo by veteran Tom Scott is magic and adds fire and emotion to compliment Streisand's outstanding vocal.

For a nice balance to the ballads, the Bobby Darin pop rocker "Splish Splash" was added to the roster with additional lyrics by Streisand herself. The song and its choice was the only song on the album that the critics found flaws with. But then again, they have always found flaws when Barbra attempted anything rock-oriented. I have to disagree with the critics on this. The arrangement of this song by David Foster was meant to be delivered as a party song, serving up nothing but fun, and fun is what we got. Tom Scott and his sax are key to giving this song that extra oomph. How many rock songs can you name where you can understand all of the lyrics? Even Streisand's delivery is perfection. Some say she went overboard with a minute or so of uncontrollable laughter that close out the song. I say she added the spirit in which the song was intended. "It's gettin' hot." Party on!


The big single release of the album was the highly-touted duet with none other than the queen of disco herself, Donna Summer. Barbra had to actually be talked into including this jewel on the album because it originally didn't contain lyrics that included water. The original title of this song by Paul (Last Dance, The Main Event) Jabara and Bruce Roberts was "Enough Is Enough." The trio went back and within days returned with a gorgeous opening ballad that contained the lyrics "It's raining, it's pouring" and throughout the most demanding disco beat, Streisand sang, and adapted "No More Tears" as the dueling divas belted their lousy lovers out the door and declared their state of independence. Thus, the name of the song was renamed "No More Tears (Enough Is Enough)" and was MORE than good enough to be included on the album. It was so good, the 8 minute plus version, and not the edit, was included on the album. When the album was first delivered to retail, it included a sticker of the famous Francesco Scavullo photo of Barbra and Donna "Featuring the hit single" slapped right on the cover. No doubt, Barbra had a successful foray into disco ("The Main Event/Fight") just a few months prior, but this duet just exploded and went to Number 1 within weeks of its release. It was also the first "12" club single to reach platinum status. Streisand, being a woman of "firsts" added this to her long list.

The album's two closing numbers are a fluffy disco-tinged number "I Ain't Gonna Cry Tonight" and the second single to be released, the ballad "Kiss Me In The Rain." While I found the lyrics to be sentimental and sometimes a bit silly on "Kiss Me In The Rain," Streisand's refined opening to her powerhouse vocal and back to graceful closing made the song work. How many times have you heard people say, she could sing the phonebook and make it important? That was my feeling, more or less, with the final track.

All in all, "Wet" is one of the finest pop albums in Barbra Streisand's catalogue. The orchestrations are lush, the songs are fun, and the vocal is superb. Were you expecting anything less from the world's greatest pop singer? "Wet" still stands as one of my all-time favorite Streisand recordings. This is an album for all kinds of weather, "Rain or Shine…"

© 2005 Steven M. Housman. All Rights Reserved.
---
ALBUM OF THE MONTH - JUNE
By Steven M. Housman exclusively for BarbraNews.com

BARBRA STREISAND: STREISAND SUPERMAN
(RELEASED JUNE 14, 1977, COLUMBIA RECORDS)
PRODUCED BY GARY KLEIN EXCEPT "MY HEART BELONGS TO ME" PRODUCED BY GARY KLEIN AND CHARLIE CALELLO

By the time Streisand Superman was released on June 14, 1977, Streisand was arguably the most powerful woman in show business. Six months prior, she had released A Star Is Born, which was her greatest box office film success to date. The accompanying soundtrack was Number 1 for six weeks, (the longest running Number 1 album of her career) which included her co-penned opus "Evergreen," which also earned her an Academy Award for Best Song after spending three weeks at the pole position on the Billboard Hot 100.

By 1977, Streisand was still delivering an album a year, but the fact that she delivered Superman just six months following A Star Is Born was extremely unusual, especially since the soundtrack was still riding high on the charts. The pop success of Streisand was now in full gear, and the songs on Superman were further proof that Barbra, a singer who barely scratched the pop singles chart a decade earlier, was now encroaching into new territory, and radio was finally embracing her. The press dubbed the six-month releases of A Star Is Born and Superman as "Streisand's one-two punch!"

There weren't many female singers (if any) that could release an album that carried a title such as "Superman" - and yet it seemed appropriate. Streisand was known for her chutzpah, and her pose on the album cover wearing a skimpy pair of white short-shorts with a tight white t-shirt emblazoned with the Superman logo seemed absolutely fitting. The title and the photo suggested that the queen of entertainment also had balls. And as successful as her career had been prior to '77, she seemed to have reached an even higher peak. It was fascinating to her fans and infuriating to her detractors.

Now that I've exhausted the packaging and multiple interior Steve Schapiro photos of the empowered Streisand, let's get to the music.

Streisand had finally delivered an entire pop album that was consistent and one that absolutely suited her. The songs ranged from pop ballads such as the hit single, "My Heart Belongs To Me" which reached Number 4 on the Billboard Hot 100, to gorgeous sonatas including "Love Comes From the Most Unexpected Places," which was co-written by the prolific Kim Carnes, to rock and roll.

From the opening title track, Streisand's vocals soared so effortlessly above the clouds, that when she sang the lyric "I'm Superman" with such conviction, you believed she WAS Superman!

The entire album is so much fun; it's like cotton candy at a summer carnival. The only exception would be "Don't Believe What You Read." Even though the track was co-written by Streisand and the lyrics were terrific, elucidating the details of her life in the tabloids, the steely rock guitar chords absolutely lacked a hook while repeating a monotonous rhythm. On the other hand, one other song that was co-written by the songbird was the gorgeous ballad "Answer Me," which was originally written for A Star Is Born. Although, it didn't make the final cut to the film and soundtrack, it luckily ended up on this album.

Upbeat rhythms such as "I Found You Love" and "Cabin Fever" captured Streisand's playful side, and since she succeeded so well in this genre on "A Star Is Born" (despite what many critics said) it was a given that she continued to show off her versatility as a first rate vocalist that could capture just about every style of music.

Speaking of versatility, she even sang a brilliant cover of the Roger ("King of the Road") Miller country-tinged ditty, "Baby Me Baby." Two very bright highlights were the albums final two tracks, Billy Joel's luminous "New York State of Mind" and Rupert Holmes' divine ode to independence "Lullaby For Myself." Billy Joel was said to be "over the moon" with Streisand's dazzling rendition of "New York State of Mind" that he later commented, "My mother now knew I had made it because Barbra Streisand had recorded one of my songs." Barbra Streisand had made it alright. She had conquered just about every medium of entertainment; it was just a matter of time that she dominated the world of pop music. If I had to choose one word to describe Streisand Superman, it would be "confident." This is truly one of the best pop albums of Streisand's discography.

Fact: Streisand Superman remained on the Billboard 200 just over six months and was promptly certified platinum. It ultimately reached double platinum status.

© 2005 Steven M. Housman. All Rights Reserved.
---
ALBUM OF THE MONTH-MAY 2005

By Steven M. Housman - Exclusively for BarbraNews.com
To the readers: Thank you for pointing out the three errors, here is the review revised. That's what I get for writing from memory! Keep those emails coming! They're all appreciated - Especially the friendly emails!-All my best, Steven

BARBRA STREISAND: THE BROADWAY ALBUM

(RELEASED NOVEMBER 5, 1985, COLUMBIA RECORDS)
PRODUCED BY PETER MATZ, RICHARD BASKIN, BOB ESTY, PAUL JABARA, DAVID FOSTER, BARBRA STREISAND

By 1985, Barbra Streisand had conquered just about every medium in the entertainment business. At the age of 18, she stepped onto a stage in the Greenwich Village section of New York to enter a singing contest, which she easily won. What she won was an engagement at the nightclub and a buzz that circulated around New York that even the best publicity couldn't buy. This led to more prestigious Manhattan club engagements. All the Broadway big shots came to see what all the fuss was about. Before she knew it, she had her first role on Broadway at 19 years-old when she was signed for her first musical, "I Can Get It For You Wholesale" in a small but important role as the quirky Yetta Tessye Marmelstein. Why was it so important? Her voice was so unique that the song "Miss Marmelstein" was written exclusively for her, and in the midst of this mediocre musical, she stopped the show each night with her natural musical comedy skills. Barbra's voice caught the attention of many record labels, but the most esteemed label, Columbia, is what she was after, and Columbia is what she got. She was signed in late 1962, and began her career with a best-selling album that consisted of mostly Broadway material, some of it well-known, some obscure, a couple of comedic offbeat ditties, and a couple of sultry torch songs. Barbra won two Grammy Awards for "The Barbra Streisand Album," one for Best Female Artist and the other for Album of the Year. The album reached gold status and remained on the chart for just under two years. A starring role in the Broadway musical "Funny Girl" catapulted her to fame at the age of 22, more nominations and awards. Television specials followed, more awards including a couple of Emmy's and a Peabody. Hollywood was Barbra's goal, and by 1967, Hollywood is what she got. The film version of "Funny Girl" was to be her debut - and what a debut it was. It won her a Golden Globe and an Academy Award for Best Actress of 1968. When 1970 rolled around, Barbra was presented with a Tony Award for "Star of the Decade." By the age of 28, Barbra had achieved every major award there was to bestow a recording star and actress. But where was there to go now? In Barbra's world, the only direction she had tad taken was up, so why stop now? There were more roles to tackle, more music to record, and more hats to be worn. But that's a whole other story. Considering this column is titled "Album of the Month," I'll stick to the music.
In the 1960's, Barbra recorded music that her fans had come to love, heavy on the ballads, an up-tempo song or two made an appearance on each album, and of course, Broadway. By the 70's, Barbra began to experiment with more contemporary music of the day. In the fall of 1970, Barbra released the Laura Nyro-penned "Stoney End" and it began a whole new chapter in her discography. The single was such a smash; an entire album was in order. By February 1971, the album "Stoney End" was released to rave reviews, hit the Top 10 and was certified platinum. Throughout the 70's and early 80's, Barbra recorded everything from rock to country to classical to disco. Everything she did turned to gold and platinum. Although she did have her detractors from the early days, most people embraced the woman with the platinum pipes. Her popularity just kept rising.
By 1984, after tackling just about every genre of music, Barbra was itching to get back to her roots. In other words, Broadway. The record company squawked. Barbra was a one-woman hit machine and squeamish record company executives protested her decision. After 23 years with Columbia, Barbra was baffled that she had to actually fight the record company to have an album of Broadway material made. After all, this was the material that put her on the map, but times had changed, and Columbia's vision and execs did, too. When push came to shove, Columbia reluctantly gave Barbra her way, and the result was a Number One album that has been since certified quadruple platinum, Grammy nominations and wins, and the best received album Barbra had recorded since the 1960's. As usual, Barbra was right. The result was "The Broadway Album," and it was a smash.
Barbra's battle to have this album recorded was best executed in the opening track, the Stephen Sondheim track "Putting It Together" from "Sunday In The Park With George." Although the original lyrics depicted a different type of artist, at the request of Streisand, Sondheim masterfully reworked the words to mirror the modern day recording artist and her battle with modern day record executives to make her point. At the beginning of the song and throughout, you hear Barbra recreating discussions and venting her frustrations with record executives. The voices of the record execs were played by her friends, Ken Sylk, director Sydney Pollack and record executive David Geffen. A perfect blend of fantasy created the reality. The song, the lyrics, and the vocal execution of this song worked beautifully, and this is where the journey of "The Broadway Album" began.
Although, seven of the twelve tracks were Sondheim's, the second track "If I Loved You" from "Carousel" brought back the "old Barbra, " the girl that gave a torch song a whole new meaning - as well as opening the floodgates to her newer fans. The song was, and is, one of the best she has recorded in her 43 year history. The vulnerable quiet girl building her story to an emotional climax is what made Streisand a recording star to begin with. Barbra doesn't just sing the lyrics, she lives the lyrics, and squeezes every ounce of emotion from the haunting and gorgeous melody.
On a contemporary version of "Something's Coming" from "West Side Story," Barbra induced even more excitement and enthusiasm into an already exciting and enthusiastic song. Is that possible? If you're Barbra Streisand, it is. If it weren't for "Putting It Together," this song would've worked perfectly as the opening track. Just to prove that theory, Barbra later used the song as her opening number in her farewell "Timeless" concerts in 2000.
Barbra's love for Sondheim continued on tracks four and five, "Not While I'm Around" from "Sweeney Todd" and "Being Alive" from "Company," respectively. "Around" is a gorgeous ballad that seems tailor-made for Streisand (but then again, what Broadway song doesn't?). Nine years later, she dedicated the song to her son Jason on stage in "The Concert" in 1994. "Being Alive" is one of the most exuberant and exciting numbers on the album. Barbra radiates every bit of enthusiasm for life itself with one of the most dynamic performances of her career. If you like this song in its original form, wait until you hear Streisand's version. She knocks you off your feet and gives you goosebumps as if you're hearing it for the first time. To this day, this is one song I've always wanted to hear Barbra perform live in its entirety. She performed it as part of a medley with "Something Wonderful" (and it was) in her 'Timeless' farewell concert.
In the days of vinyl, the next track, which is a medley of three songs "I Have Dreamed/We Kiss In A Shadow/Something Wonderful" from Rodgers and Hammerstein's "The King and I" are gorgeously arranged by the late Paul Jabara ("Last Dance," "The Main Event," "No More Tears") and Bob Esty, closed Side One of the album. Jabara had originally set the introduction of the song to one of the scores other highlights "Shall We Dance." It was set to a disco beat and was an exciting departure from anything else on the album, as Streisand's vocals effortlessly worked its way up and down and around the scale. As much as I love the arrangement, Streisand was precise when she decided to scratch the dance intro. In repeat listening to the original three and a half minute intro, it now sounds dated. Broadway material never goes out of style, but the style of 120 BPM have. Once again, Barbra's instinctive ear made the right decision. The final results are gorgeous, ethereal and superbly molded into one song. If one isn't familiar with the original songs and arrangements, it's almost impossible to tell where one song ends and the others pick up. That's due to Streisand's unique vocal ability to sew lyrics together like a beautiful quilt. There isn't a stitch out of place.
A bonus at the time of the release of "The Broadway Album" was an extra track exclusively for the CD release. Since CD's were new at the time, record companies were using gimmicks to lure people into buying CD's. It worked. The bonus track was the comic number "Adelaide's Lament" lifted from the Frank Loesser score of "Guys and Dolls." Here we have the funny girl back in fine form, a trait she had rarely utilized since her early days on stage and her first three musical films.
Side Two, or for those who were born in the age of CD's, track eight was perhaps one of the most beautiful songs ever written. Sondheim's "Send In The Clowns" from "A Little Night Music" was lyrically altered at Barbra's request. She felt the original lyrics were a "bit too British and a bit too fancy" for her taste, so in bold Barbra fashion, she asked Sondheim if he would consider "revisiting the lyric." Without a blink of an eye, Sondheim agreed, Barbra's version was a bit more Americanized and everybody was happy. This song has been recorded by just about every major recording artist, but as usual, Barbra's made it her own.
The Sondheim tribute continued on a medley from "Sweeney Todd" and "Company" with "Pretty Woman/The Ladies Who Lunch." This is an absolute treasure of two extraordinary songs becoming one. Barbra's sly, sarcastic take on women who have nothing better to do with their days but go to the gym, buy a hat and meet their girlfriends for lunch is outstanding, as is her vocal. Barbra had said she thought about these women quite a bit, and perhaps she was just a tiny bit envious of the beautiful women who sit in front of a mirror brushing their hair while the world gets handed to them on a silver platter, just because they're pretty. This has long been a dichotomy in Barbra's life and career; the ugly duckling beating the odds and emerging as the beautiful swan.
On Track ten, Barbra eases her way through "Can't Help Lovin' That Man" in a pleasant quiet way, reminiscent of the film version of "Showboat," written by Jerome Kern and Oscar Hammerstein II. The song originally got a swankier version with a trumpet wailing over Streisand's soaring vocals. Barbra decided to bring it back to the simplicity of the original, and what we get is a lovely version that's beautifully complimented by Stevie Wonder and his harmonica.
What would a Broadway album be without something from George and Ira Gershwin? This time around, Barbra performs yet another medley, "I Loves You Porgy/Porgy, I's Your Woman Now (Bess You Is My Woman)" from "Porgy and Bess." The result is once again, Barbra the actress becoming Barbra the singer becoming Barbra the actress. In other words, in Streisand's case, you can never tell where one lets go and the other takes over. I guess it's because they don't. The "actress who sings" climbs so deeply into the skin of this character, your heart beats faster with her emotional vocal. Barbra feels Bess' desire, love and pain, because Barbra becomes Bess.
The song that takes the greatest departure from the album was saved for last. We return to Leonard Bernstein and Stephen Sondheim's brilliant score of "West Side Story" for the stunning symphonic "Somewhere." Barbra had wanted this song to sound as if the heavens opened up. It succeeded. Producer David Foster understood Barbra's vision and the result is nothing less than spectacular. This song of love and hope was the perfect choice to close the album and Barbra's otherworldly vocal soared. When she sang "Hold my hand and I'll take you there" towards the climax, you felt as if you needed to reach out and hold her hand. THAT'S how much she connects with her audience. Streisand already had her signature songs, "People," "The Way We Were," "You Don't Bring Me Flowers" and "Evergreen." Who would have thought 23 years into her career, she would've added one more? "Somewhere" is absolutely stunning. Streisand wanted a sound that was "out of this world" and by being Barbra Streisand, she not only got it from this song, she got it from the entire album.
Out of sixty albums, if I HAD to rank her top five, "The Broadway Album" is easily among them.
"The Broadway Album" debuted on the Billboard 200 Album Chart on November 23, 1985. It eventually topped the chart for three weeks and remained on the chart for just under one year.
In February 1987, "The Broadway Album" won two Grammy Awards. Best Pop Female Vocal Performance (Barbra Streisand – The Broadway Album) and David Foster picked up one for Best Instrumental Arrangement with Accompanying Vocal for "Somewhere."
© 2005 Steven M. Housman. All Rights Reserved.
---
ALBUM OF THE MONTH - April 2005
By Steven M. Housman - Exclusively for BarbraNews.com

BARBRA STREISAND: FUNNY GIRL – ORIGINAL SOUNDTRACK RECORDING (RELEASED SEPTEMBER 17, 1968, COLUMBIA RECORDS)

PRODUCED BY JACK GOLD, ARRANGED & CONDUCTED BY WALTER SCHARF.


When I began to contemplate which album to review this month, I thought I'd choose the first Barbra Streisand album that I had purchased. The experience of seeing the movie, Funny Girl, in September 1968, forever changed me. By the age of 10, I already had an innate sense of the popular music of the day. Being the youngest of three, I had been exposed to the Beach Boys, the Beatles and every pop song since I was born. But I had yet to experience complete awe and adulation for a singer -- that was until Funny Girl and Barbra Streisand. Not only had I never heard vocals so utterly astounding, I never experienced such an array of emotion from a singer. My virgin ears finally heard perfection and it was the first time I got those famous Streisand goose bumps that so many people had talked and written about.

The brilliant score was written by the legendary Jule Styne and Bob Merrill and included such Streisand classics as "I'm The Greatest Star," "Don't Rain On My Parade" Streisand's signature song, "People."


Ten of the fourteen tracks were sung by Streisand with the exception of "If A Girl Isn't Pretty" and "Roller Skate Rag." "You Are Woman, I Am Man" is an hysterically funny duet with Omar Sharif, and two songs that weren't written by Styne and Merrill; "I'd Rather Be Blue Over You (Than Be Happy With Somebody Else)" and "My Man," a song closely identified with Fanny Brice and Barbra Streisand, demonstrate the depth and range of Streisand's emotion. She could be cooing and joking at one moment on the famous bride number; "His Love Makes Me Beautiful," breaking your heart on the Oscar-nominated title cut written specifically for the film, and send your head reeling with her gutsy and explosive vocals on "Don't Rain On My Parade." All of the songs showcase Streisand's versatility as the actress who sings.

Purists might say the Original Broadway Cast Album from 1964 was better, maybe because they were there to witness the 22 year-old ingénue unknown named Barbra Streisand. But when you take a listen to the vocals and the arrangements on this soundtrack, it's hard to argue with aforementioned songs such as "I'd Rather Be Blue," "People," Don't Rain On My Parade" and the finale of all finale's "My Man." At 25 years old, Streisand never sounded stronger or with sang with more conviction.

How many singers can you name that can belt a song like "I'm The Greatest Star" and get away with it?

Footnote: This album has been certified platinum. It reached #12 on the Billboard 200 and spent two years and four weeks on the chart.
---
ALBUM OF THE MONTH - March 2005
BARBRA STREISAND: GUILTY- (RELEASED SEPTEMBER, 1980, CBS)

PRODUCED BY BARRY GIBB, ALBHY GALUTEN & KARL RICHARDSON

EXECUTIVE PRODUCER: CHARLES KOPPELMAN FOR THE ENTERTAINMENT COMPANY
---
Considering there's been so much buzz lately about Barbra's next album endeavor, her re-teaming with Producer/Writer/Vocalist Barry Gibb, I thought it was only appropriate to kick off the first "Barbra Streisand Album of the Month Profile" with her 1980 mega-smash Guilty -- the most successful pop album of Streisand's long and illustrious recording career.

By the late 70's, the Bee Gees were the hottest act around, coming off of Saturday Night Fever with six consecutive Number One singles. Meanwhile, Streisand had become the ultimate pop princess-- scoring a dozen Top 40 hits in the decade, including four Number One's which included "The Way We Were," "Love Theme From A Star Is Born (Evergreen)" (both winning Grammy's and Best Song Oscars), and two historic duets, "You Don't Bring Me Flowers" with Neil Diamond and "No More Tears (Enough Is Enough)" with Donna Summer.

In August 1980 the first single, "Woman in Love" written by Barry & Robin Gibb, was released to radio and began a swift rise to the top of the charts. The song was like nothing that Barbra had ever attempted in her 18-year recording career. The hooks were pure Bee Gees magic and the backup vocals were gorgeously ethereal. It was one of the best pop songs of Streisand's career. With the mounting success of the single, the anticipation for the album rapidly increased. Five weeks later, the suspense was terminated. Within three weeks after the release, Streisand owned the top of Billboard Hot 100 and Album charts with "Woman in Love" and Guilty, respectively.

The title cut kicked off the album, which was a mid-tempo duet with Gibb. It was an absolute joy to hear Barbra using her voice in such a playful way. She and Barry complimented each other beautifully, as they did on the album's only other duet, the power ballad "What Kind of Fool."

Another highlight on the album was "The Love Inside," which is a lavish song of lost love. Barbra's unique brand of quiet longing married to the lush arrangement makes this one of the finest in her repertoire, and proves that nobody can break your heart and sell a song like Streisand.

"Promises" is the closest that the Gibb Brothers came to delivering a disco song when disco was already on its way out. The song smartly used Gibb's dance element but slowed it down just enough to make it a mid-tempo romp with Streisand easily gliding in and out of the melodious hooks.

For those of you who prefer a more traditional ballad, "Run Wild" proved to be right up Streisand's alley for the familiar sound most people associate her with.

"Life Story" is a song that could have easily been used as a James Bond theme song. Nobody knows their way around dramatic chord changes like Barry Gibb, and this is no exception. Streisand's flair for the dramatic intensified the atmosphere even more.

"Never Give Up" is also a departure for Streisand. This is the first song where the synthesizer actually complimented the songbird's voice -- and when you thought it was all studio trickery, the bridge came and Streisand sang it with all of her Broadway bravado.

The final track "Make It Like A Memory" is the most dramatic of the nine-song set. The sonata combines Streisand the actress with Streisand the singer, and what we get is close to a three act play with a jaw-dropping vocal and a wild guitar solo. Streisand coos at one moment and is belting the next, with so much raw emotion she literally takes you on a seven and a half minute roller coaster ride.

Guilty is the most unique album of Streisand's pop catalogue, and it's easily apparent why it was Number One in over a dozen countries and sold over twenty million units worldwide. The ingredients that Gibb cooked up for this album are so delicious that even non-Streisand fans ate it up.

For those who haven't heard this historic opus, I highly suggest picking up a copy. The album may be titled Guilty, but the pleasure is anything but.
Facts:
Noted: Guilty was the most-nominated Album of Streisand's career scoring the Top 5 categories at the 24th Annual
Grammy Awards in 1981, including
Best Pop Vocal Performance, Duo or Group-"Guilty" (Duet With Barry Gibb) WINNER
Album of the Year-Guilty
Record of the Year-"Woman In Love"
Song of the Year "Woman In Love" (Songwriters Award)
Best Pop Female Vocal Performance-"Woman In Love"